tUMD 7, Loserwolves 1 (Shootout: tUMD 0, Loserwolves 1)
Well, a lot happened today.
First, I had a test. I know no one cares, but still. I also have 4 more tests this week, which is kind of insane, and yet I am so dedicated to all you comrades and to tDogs that I went to the game and am somehow typing some gibberish recap while mostly on autopilot.
Then, tUMD unveiled their new jersey. I went to this unveiling, because it was on campus and I was interested. I didn't even realize that I could have peeked and seen them earlier since the mannequins in the bookstore were already set up, just covered. I assumed they were displaying black ponchos for the football games.
Speaking of mannequins. While I was sitting waiting for the thing to begin, I was watching people set it up, and they dragged the mannequins out of the store into the "bus hub." The "bus hub" btw is just that open space outside the bookstore and the burger place. I wish I had taken a picture, because this whole plastic creepy child mannequin covered in a black plastic tarp, as well as two headless adult mannequins also wrapped in black plastic, was more "American Psycho re-enactment" than "jersey unveiling." I didn't take a picture because the glass covering the lens of my camera phone is cracked and so it takes terrible photos, plus I was sort of lurking so no one would notice me.
Justin Crandall, Austin Farley, Josh Berlo, Lisa Erwin (Vice Chancellor for Student Life), and the Penalty Box student leaders were all on hand as Champ performed a little "Magic Mike"/Women of the WWE stripping of his jacket to reveal the new jersey.
Here is a picture of the new jerseys and also the creepy child mannequin.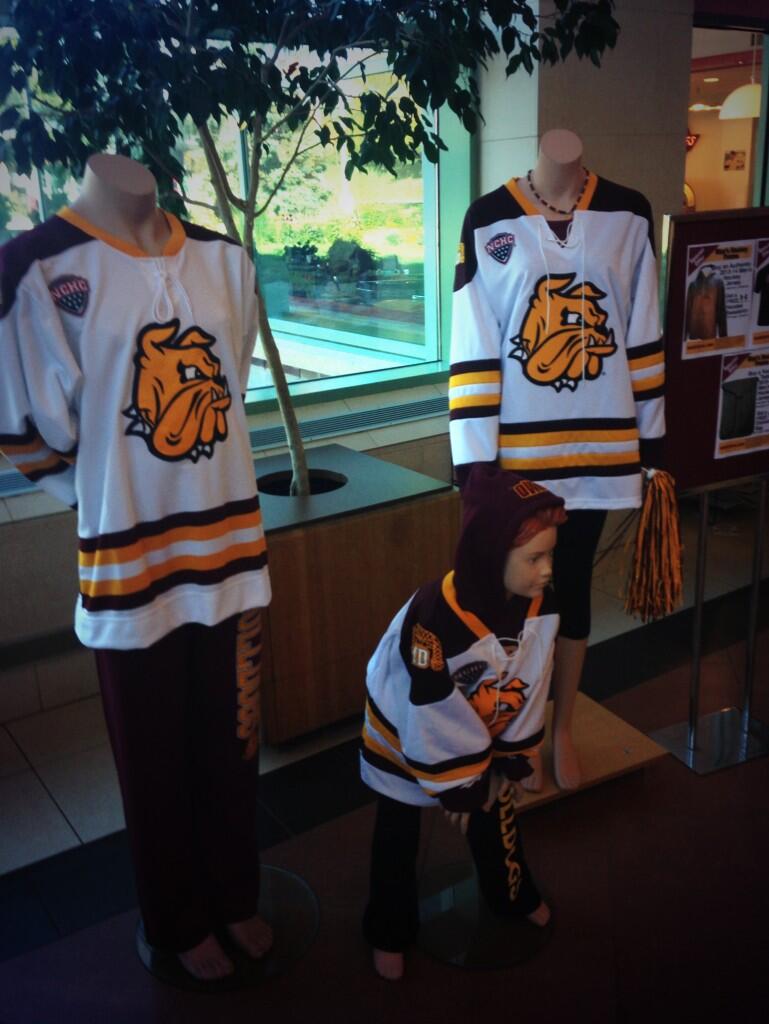 I stole this picture from Zach Schneider's Twitter account.
Of course, if you went to the game tonight, which I also did despite being barely conscious, you didn't see this jersey, you saw the regular maroon one. So strange. Maybe Lakehead only had one clean jersey or something.
So the hockey game! Yes! I went! By myself! And when I say "by myself," I mean there were 2 other people in my row and they were sitting at the other end. It was a little sad.
It's really not that much fun to sit alone at a half-full hockey game. Especially when you are studying for your circuits test during intermission. Which I really was, there are witnesses. I am cool.
Don't worry, I didn't miss a minute of the action.
Something really weird happened during intros that wasn't exactly clear. All of the Underwolves were on the bench except their starters. THIS IS AMERICA. WE LINE UP ON THE GOAL LINE.
Tony Cameranesi didn't play due to a lower body injury, but he should play on Friday, according to my sources, which are just tweets.
tUMD scored early, 5 seconds after the end of a power play, on a goal from freshman Carson Soucy, assisted by Kyle Osterberg and Justin Crandall. I was confused and thought Justin Crandall had scored the goal, but I am terrible at that stuff. It didn't matter because he scored the next one, with another assist from Ostie (which is a swear word in Quebec) and one from A&Dubs (Andy Welinski. I just coined that nickname. I hope it catches on.) In the final minute of the period there were some hijinks and somehow we came out with the PK. When does that ever happen in a game against terrible Canadians?? So confused. Oh, the Seawolves (oops, they're terrible like UAA so I got confused) Thunderwolves nearly had an own goal whilst on the power play. That would have been a high point in interleague play for me.
The second period was not the best period of hockey ever played. And not just because one terrible team was playing, tUMD wasn't exactly setting the world on fire. The Stinkerwolves scored a PPG (which we failed to do in 6 attempts, ugh) and I was afraid we might turn into a Denver or a Michigan. Kyle Osterberg, Hustler, was not going to let that happen and scored a goal to quiet our fears, assisted by Sammy Spurrell. We also hurt their goalie and he had to come out of the game.
In the third, Joe Basaraba scored 40 seconds in. Lakehead coughed up the puck and Joe took a shot that went between two defenders and beat the goalie. Holy snipes! He seems to have been fitted with some kind of bionic implant, with that kind of accuracy. Max Tardy (I know, right?!) and A&Dubs assisted. Hometown boy Dom Toninato scored 50 seconds later (from Iafallo and Herbert), Austin Farley dangled, sniped, and cellied (assisted by Max Tardy [I know, right?!] and Dan Molenaar), then Dom scored again, and then he almost got a hat trick but didn't. That was the scoring summary.
These freshmen are for real, you guys. I mean, I know Lakehead is terrible and we can't really judge, perhaps we could watch them play a pee-wee team to get a better idea, but still. They're good. And I'd bet we get most if not all of them for 4 years.
The less said about the shootout, the better. Let's just win in regulation, k? We also need to work on the Zamming for the shootout. They did about 75% of the ice. YOU NEED LIKE A LANDING STRIP, THAT IS ALL, FFS. Some of us only paid for 3 hours of parking at the lot in Canal Park that used to be free after mid-October but now probably won't be, thanks to automated payboxes.
And the best part? I got home in like 10 minutes. I love living here.